The Duber Club's Best Buds Policy
When it comes to Medical Marijuana, we here at the Duber believe in top-shelf strains. That is why we work closely with our organic marijuana growers, to bring our customers and patients some of the highest quality buds available on the market. Don't believe us? We encourage you to try one of our many strains today, and find out for yourself! When you receive your order we recommend smelling the buds straight away. Just like our animal cousins, our sense of smell guides our need for consumption. That is why you can expect to start salivating after you smell one of our strains. Whether you're partial to an Indica, Sativa, or Hybrid, we've got what you weed!
GMO Cookies Strain, Cali Weed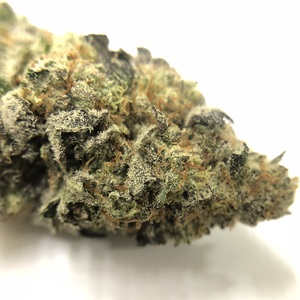 This strain can claim some pretty amazing parentage. This indica-dominant hybrid (and I mean indica-dominant, as it's a 90/10 split) can boast not only one legendary strain, but two, as its parents. Chemdawg and Girl Scout Cookies (GSC) come together to form this holiest of unions. The diesel aroma is balanced with a slightly cerebral high, but also an incredibly body dominated high. The Girl Scout Cookie genetics give it its earthy, cookie flavor, and this strain is known for providing massive amounts of relief for pain, nausea, appetite loss, etc. This truly is top shelf, medical-grade cannabis, and is so covered and coated in trichomes and purple leaves that it leaves you frothing at the mouth. Prepare yourself for one of the best strains known to us, GMO Cookies. Truly witness the amazing flavor of this strain with our organically grown cannabis, which smells truly amazing and tastes exactly like it should.
GMO Cookies Flavors & Uses
Flavors
Sweet just like its parent strain
Earthy like chemdawg 91
Pungent smell, with diesel-like aroma
Earthy
Uses
Nausea & vomiting relief
Anxiety
Stress
Will induce sleep