The Duber Club's Best Buds Policy
When it comes to Medical Marijuana, we here at the Duber believe in top-shelf strains. That is why we work closely with our ogranic marijuana growers, to bring our customers and patients the highest quality buds available on the market. Don't believe us? We encourage you to try one of our many strains today, and find out for yourself! When you receive your order we recommend smelling the buds straight away. Just like our animal cousins, our sense of smell guides our need for consumption. That is why you can expect to start salivating after you smell one of our strains. Whether you're partial to an Indica, Sativa, or Hybrid, we've got what you weed!
Purple Punch, Cali weed
Purple Punch is a sweet and sedating indica-dominant hybrid, which creates a really classic strain. The cross of Granddaddy Purple (GDD) and Larry OG should be an intriguing prospect for any cannabis lovers out there. The fantastic aroma of blueberry muffins and grape candy is what should originally woo you. Once you've been brought in from the cold, get ready to see some of the most beautiful, trichome-laden buds you've ever seen in your entire stoner life. The potency of this strain is what keeps its customers coming back for more, the flavor mixed with the potent head and body highs are perfect for many stoners, and for some medical conditions and medical uses as listed below. The high starts as a cerebral high which begins melting down into the limbs and relaxing the body. Prepare yourself for this deliciously sweet strain, which would suit most users for an after dinner smoke.
Purple Punch is picked up by users to help with sleep, cure nausea, and for general stress-busting and relaxing qualities which indica-dominant hybrids are known for.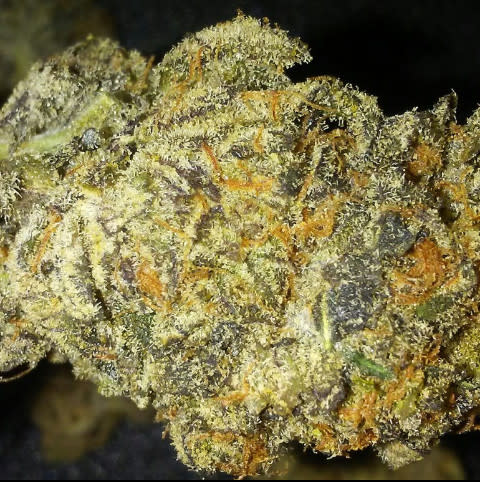 Purple Punch flavors & uses
Flavors
Uses
Anxiety
Depression
Euphoria
Pain
Blissful
Minor body aches