Pop Naturals CBD description
This is medical cannabis. Most medical cannabis products are filled with THC, but Pop Naturals CO2 Oil is based instead around CBD. CBD is a much less heavy on the mind. This normally means that CBD doesn't get you particularly high. This is very useful for those who want to have the miracle effects of cannabis, without the mind-altering, sometimes unwanted side effects. Dedicated to creating non-toxic, cannabis medicines without the unnecessary additives. Pop Natural's goal is to take the best medicines and to give them at the most affordable prices. These Pop Natural** CBD Cartridges are no different: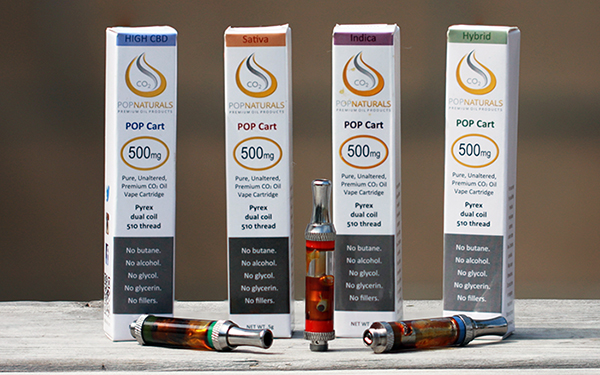 Why Pop Naturals?
The main goal of Pop Naturals is to offer a way for you to take medical cannabis and for it to actually be for medical use. They do this in a number of ways, but the main way is by offering exceptionally high CBD strains, which have very little THC. Owing to their CO2 extraction process, Pop Naturals also ensure that their products have:
No Butane
No Alcohol
No Glycol
No Glycerin
No Fillers
No Added Unnecessary Terpenes
Additional information
CBD is used because of its many therapeutic uses and because it is non-psychoactive, it is often recommended for treatment of children, the elderly, and anyone who wants the medicinal benefits of cannabis without a strong high.
Pop Naturals Strains
Pop Naturals AC/DC
ACDC is a sativa-dominant phenotype of cannatonic. It has a THC:CBD ratio of 1:20 which is massive. It often tetss at over 19% CBD, which is perfect for people who want to treate illnesses without getting high. Helps with things such as MS.
Pop Naturals Swiss-Tsu
Swiss-Tsu is a sativa with a pungent smell, which also has a very high CBD content. It has 14% CBD and 0.5% THC, making it much more of a medical marijuana strain.
Pop Naturals Harle-Tsu
This high-cbd hybrid cross between Harlequin and Sour Tsunami has a CBD content 20 times higher than its THC content.
Pop Naturals Sour-Tsu
Sour Tsunami is perhaps the most famous high CBD strain, and can help treat pain and inflammation. It was one of the first strains to be bred for its high CBD content.
Pop Naturals Canna-Tsu
Canna-Tsu is a hybrid strain which has very slight, mellow effects which are perfect for treating pain, stress, anxiety and seizures.
Pop Naturals Ringo's Gift
Ringo's Gift is one of the most famous high CBD strains and is named after Lawrence Ringo (not Ringo Star) there are many different phenotypes, and CBD:THC ratios.
Pop Naturals Remedy
Remedy has 15% CBD and 1% THC, again making it a perfect medical marijuana strain for things like anxiety, stress, pain, and inflammation
How to pick your vape
With Pop Naturals it's much easier to pick your vape, at least for the Super CBD CO2 cartridges, as they're all incredibly rich in CBD and very low in THC, and therefore have a very specific use. All of the above cartridges will help with things such as pain, anxiety and inflammation, and because of their exceedingly pure nature, you will not have any problems with things like unwanted additives.
However, Pop Naturals offers a large number of things they say CBD will help with:
analgesic
antibacterial
anti-diabetic (reduces blood sugar)
antidepressant
anti-emetic
anti-epileptic
anti-inflammatory
anti-insomnia
anti-ischemic (reduces the risk of artery blockage)
antipsoriatic (treats psoriasis)
anti-proliferative
antipsychotic
antioxidant
antispasmodic
anxiolitc
bone stimulant
immunosuppressive
intestinal anti-prokinetc (reduces small intestine contractions)
neuroprotective
and vasorelaxant (reduces vascular tension) effects.
Although these are all not necessarily scientifically proven, there is a lot of consensus that CBD definitely has a lot of potential as a game-changing medicine.
Vaping CBD
The vaping experience is thought to be vastly superior to that of smoking the cannabis flower, bonging, piping etc. Why do people vape, exactly? The main reason is that it doesn't have the negative health connotations which are associated with many other different methods of smoking cannabis. When you burn the plant material, it produces toxins, which are inhaled alongside the medicine. Vaping CBD is also an effective way to get the effects, as it's very concentrated. Also, CBD Oil sometimes doesn't taste very nice, and large amounts are needed for symptom relief. That is the main reason people vape cbd
Storage
Store at room temp. Do not leave in your car, particularly on hot days. Store upright.
Pop Naturals Further Information
CO2 extracted CBD oil from AC/DC, Swiss-Tsu, Harle-Tsu, Sour-Tsu, Canna-Tsu, Ringo's Gift, and/or Remedy with a ratio ranging from 5:1 to 20:1 of approximately 50%-65% CBD and/or 3%-10% THC
FAQ
What battery is compatible with your Premium Vape Cartridges?
If you already have your own battery, most 510 thread pushbutton batteries will work with our carts. We do not recommend automatic draw batteries. Although they fit, they don't allow our pure, unaltered CO2 oil to perform at its best.