Bionic Bee Vaporizer
has 10 years experience in the cannabis industry. Health and wellness have always been central to the ethos of the company. Bionic Bee's goal is to create a product which fits their patient's needs. This golden superior marijuana oil is perfect for patients.
The Process
These products are sourced from their own exclusive grow houses. They work with cultivators with experience and who are experts in creating specific strains for their needs. They have a clean green system, which is based in a state of the art Los Angeles production plant. The natural methods they use to create clean bionic bee organic cannabis matter, which is used to create pure concentrates.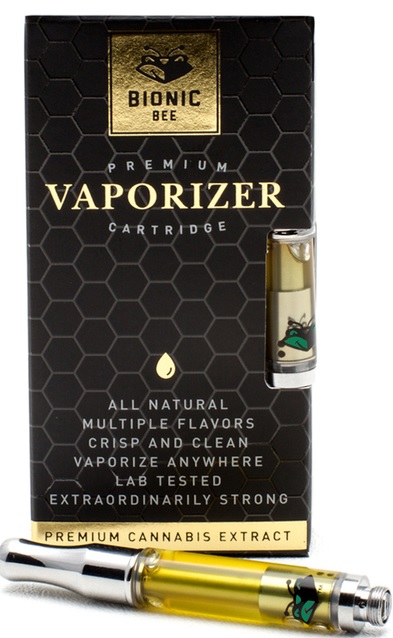 Bionic Bee Strawberry kiss you back
Strawberry Flavors
Sativa
Great for stress-busting
Powerful and also very tasty
Bionic Bee Orange diesel
Sour Diesel orange strain
Tangy
Perfect for daytime use
Sativa strain
Bionic Bee Maui Mango
Very powerful sativa
fruity
daytime strain
wake and bake
Bionic Bee Girl Scout Cookie
AKA GSC
Californian strain (Girl Scout Cookie Cali)
Smoked across the world
Tiny amounts will get you stoned
One of the best-tasting strains
Sativa-dominant
Bionic Bee The Nose
Piney
Indica-dominant
Great for relaxing
Good night and daytime strain
Can help with anxiety
Bionic Bee Skywalker
Indica-dominant hybrid
Blueberry Flavors
Great for nighttime use
Stress Buster
Bionic Bee Cherry Pie
Flavorful strain
Granddaddy Purple x Durban Poison
Cherry flavors
Long-lasting effects
Hybrid
Bionic Bee Grape Ape
Created by Apothecary Genetics and Barney's Farm
Pure Indica
Solid, body high
Cross between Mendocino Purps, Skunk and the Afghani Landrace
Distinct Grape smell
Carefree, relaxing high
Soothes pain, stress and anxiety
Bionic Bee Strawberry Cough
Heavy, potent Sativa
With strawberry overtones
Happy, euphoric
Pungent, potent
Anxiety, depression, and stress buster
Bionic Bee Indica
Bionic Bee Bubba OG
Gets its name from the relaxing nature of the strain
From the renowned Hindu Kush Mountains strain Hindu Kush
Body high, couch lock
Treats stress and anxiety
Can also induce sleep
Nighttime strain or lazy weekend
Bionic Bee 4 kings
3 kings headband, sour d and og kush
mixed with skywalker
Skywalker helps OG Kush balance out the sativa-dominant nature of Three kings
How to choose your Bionic Bee Vape
| Hybrid | Sativa | Indica |
| --- | --- | --- |
| Balanced | Strong cerebral high | Normally a body high |
| Good for a lot of things, stress busting, relaxing etc Can be both cerebral and body high | Perfect for those who want to get creative, study, do some chores, or just help you through the day. Perfect for a burst of energy | The choice for those who want to relax, sleep, meditate, find some peace, and treat anxiety and other things |
| Can be either Sativa or Indica-dominant | May not be best for first time users | Best for relaxing |
| GSC for taste | Maui Mango for flavor | Skywalker for flavor |
| Bubba OG for effects | Strawberry cough for effects | Grape Ape for effects |
What do I need to use a Bionic Bee cartridge?
All you need is a 510 Thread Battery, Very easy to find, but if you want the best ...Grab the Bee Pen….Available now online and in Stores. (Includes: Pre-Charged Adjustable Battery, Charger and Case). If you don't want to deal with charging... grab a pack of disposables.
How many puffs do i get per cartridge
It all depends on how often you use it and the specific wattage/voltage your pen/vaporizer is set at. Around 120 is the estimated amount of puffs per cartridge.