+
California Dab Company Cartridges
This is the California Dab Company's concentrates, in vaporizer format. These vaporizers are compatible with all basic 510 thread batteries, and this THC Honey Stick is completely solventless. This high-quality, cheaper alternative to many vaporizers is proving to be a success, and the company are becoming more and more popular every day. For more information about their company, please take a look below.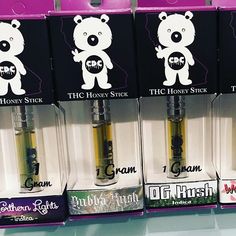 About California Dab Company
California Dab Company (Previously California Honey Extracts) are known to be an affordable yet exceptionally high-quality brand. This makes for a perfect combination of quality, affordability and potency. Whereas some products sacrifice potency for the price, California Honey Extracts are known for having the best of both worlds. This company is gaining renownn across California. Their bear symbolizes a brand which will not disappoint, and they have some great flavors including some OG Kush varieties.
Flavors/Dosage
The Duber Club currently stocks the following flavors:
California Dab Company Banana OG
Banana OG is a cross between OG Kush and Banana. This is a great combination as you get the kushy and banana aroma and flavors and also the relaxing high of its indica parent and the stronger, sativa cerebral high.
California Dab Company Blue Dream
Blue dream has probably one of the aptest names of any weed strain in the entire list of 9,000+ strains. This Sativa-dominant hybrid originated in California and smokes exactly like it says on the tin.
Picking your cartridge
The Duber currently only stocks two hybrids, Blue Dream is a perfect balance between Sativa and Indica, and can be used during the day or at night. It can help you sleep or help you think. This perfectly balanced Indica is a tough one to beat, as the effects truly are dream-like.
Banana OG is stronger on the Indica side, making it a great choice for those who want to have a relaxing day, but not so relaxing that they melt into their chair like the 90s anti-pot adverts.
The Vaping Experience
The vaping experience is all about subtlty. Being able to take your dosage, on the move. Also, in general, vaping is much safer and cleaner than smoking flower. That is why so many people are moving to concentrates. California Dab Company produce high quality vapor, making your vaping experience even better! Enjoy your vape anywhere, with just a 510 battery needed, and nothing else!
California Dab Company how to
In order to use your cartridge, just attach it to any 510 battery thread, and turn it on. Once the oil has started to hear, hold the button and take a 1-3 second drag, this will alow the wick to fully heat up. After this, you should take a longer drag, whilst also holding the button down, this will allow for a longer, more potent flow of vapor.
Storage
Store at room temp. Do not leave in your car, particularly on hot days. Store upright.