+
Spliffin Vape
This Los Angeles based company produces solvent-free concentrates, vaporizers and is helping to revolutionize the way in which consumers take their favorite medicine. This inspired company has created a whole host of well-designed, easy to use and simple products, which ensure potency, safety, and purity.
Spliffin Vape Pen Pure are exceptionally high-quality cannabis concentrate cartridges which can be fit with any 510 Thread battery, this makes them perfect for everyday, subtle usage. If you've experienced other cartridges, but haven't experienced Spliffin Vapes yet, then you're in for a good experience. These 70 % + THC concentrates pack both taste and potency. This combination is what makes these vapes so popular.
The taste and aroma of these products are mainly built by the naturally occurring terpenes which are extracted from the original flower, then added back to the product. This natural terpene flavor is probably the most important part of Spliffin Vapes Pure product.
Quality cartridges
Something that really lacks in some vape companies is the quality of both the product and the pen which the product is encased within. Luckily for you, this company isn't messing around. When it comes to quality, you'll be hard-pressed to find some that do it better and purer than this company. Furthermore, as mentioned before, these products have the naturally occurring terpenes of the flower they are advertised as being. Other products simply take an unnamed flower product, and simply add the terpenes of the more famous strains.
Spliffin Vape Pen Available Strains
These strains include a number of Spliffin's own strains, such as Spliffin OG, as well as some of the classics. All strains are available in either 0.5ml or 1ml cartridges, which is approximately 70 or 140 puffs.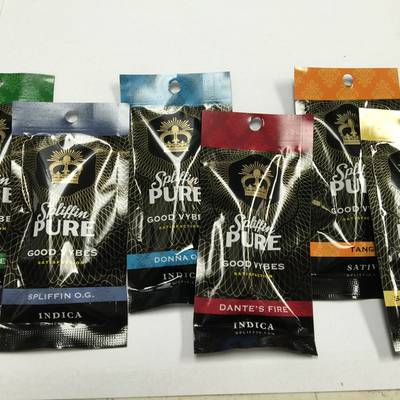 ---
Spliffin Vapes Tangie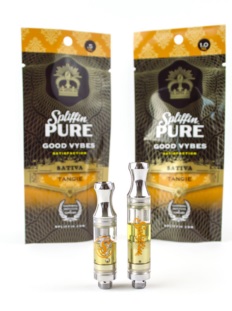 Bred in Amsterdam originally
Sought-after for its citrus smell and taste
Cross between Cali Orange and Skunk
Provides a relaxing, euphoric but potent high
Spliffin Vapes Jack Herer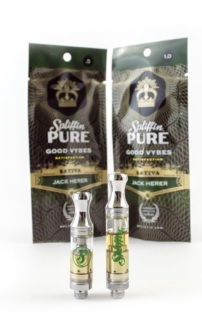 Hails from Amsterdam
Potent Sativa
Retains all of the flavor from the original strain
Perfect for depression, and other things helped by sativas
Daytime strain
Spliffin Vapes Super Lemon Haze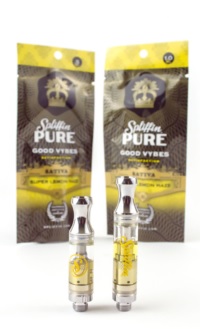 Zesty and citrusy
Sweet flavors
Energetic, lively high
Unwinding, stress buster
Flavorful and overall a great cartridge
Spliffin Vapes Dante's Fire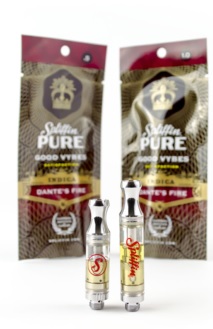 Indica-dominant hybrid
Unrivalled potency
According to breeders in Amsterdam, this strain was a Soviet Experiment (probably not true but gives a good story)
Euphoric and sedative
Great for day and nighttime use
Stress-buster
Spliffin Vape Donna OG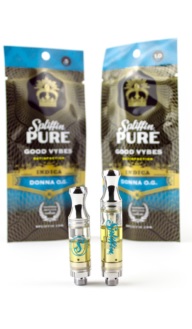 Indica-dominant hybrid
Deep relaxation
Great for a relaxing, intimate evening
Doesn't overwhelm with a strong cerebral high
Great nighttime strain
Euphoric
Spliffin Vape Spliffin OG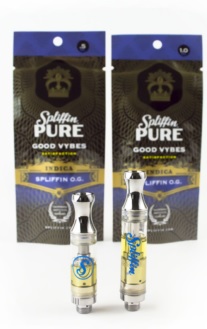 Stress-crushing indica strain
Unparalleled relaxing properties
Sedative body high
Slight cerebral stimulation
Relaxed, Euphoric, sleepy, happy
Perfect nighttime strain
How to pick your cartridge
Spliffin Vapes currently does not offer any pure indicas, but the hybrid indicas it does offer are perfect for those who want the indica, body-high experience. However, in general, the rules for choosing a cartridge are as follows:
Sativas are for a cerebral high. Mainly this will affect your mind, and will give you bursts of energy, creative and physical. It's normally better to smoke these strains in the day, and they will help with more severe symptoms or conditions such as depression. A perfect example of this would be the Spliffin Vape Jack Herer.

Indicas are more for the body, and often induce what is known as couch lock. Indicas are much better for nighttime use, and will induce sleep and will help with relaxing & stress. Although the company doesn't offer any straight indicas, the hybrids are all indica-dominant.

Hybrids can lean either way. They will either by Sativa-dominant or Hybrid-dominant. Think of a hybrid like the middle of a see-saw, and depending on far you move to one side or the other, is how strong the strain is on either the sativa or hybrid side. Hybrids mean that you can have both the overwhelmingly heady effects of a sativa, mixed with the relaxing, euphoric body highs of an indica.
Spliffin Vape FAQ
Can I use my cartridges with any battery?
It is recommended that Spliffin cartridges only be used with Spliffin battery devices. We cannot guarantee the functionality or effectiveness of Spliffin products when used with third-party products. IMPORTANT – Please do not use automatic pull batteries with Spliffin PURE cartridges. As of Summer 2016, all PURE cartridges feature a dual coil atomizer that is not compatible with third-party auto-pull batteries.
Do these products have a shelf life?
Spliffin products do not contain preservatives. The taste, composition, and effectiveness of Spliffin products may diminish if not consumed with 90 days from date purchased.
Avoid subjecting concentrates to extreme temperatures or direct sunlight.
How do I take a hit?
Press and hold battery button while gently inhaling for 2 to 3 seconds through the mouthpiece. Release the button and exhale. Allow unit to rest for a moment between inhalations. Resting prevents overheating of the concentrate and also prolongs the working life of the atomizer (heating element).