W Vapes Information
This emerging company focuses on high-quality Cannabis oil, which they put inside their sleek, wickless cartridges for ease of use.
W Vapes was founded in 2015 by 2 masters in the cannabis industry, with a true compassion for helping others using groundbreaking techniques.
Based out of Los Angeles, California / Las Vegas, Nevada, W Vapes is engaged with the medical side of the cannabis industry, having won multiple awards right from the start for their 100% pure, pesticide-free, CO2 extracted, lab tested oil.
W Vapes Sleek, innovative design
This Product is the disposable vape pen, which has a number of amazing features making this particular pen great for medical use. Firstly the clear container allows you to see exactly how much concentrate you have left. Absolutely no leakage, due to the incredibly secure tip of the vaporizer. Furthermore, you know when you're taking a hit, as the end of the vaporizer lights up. The concentrate is made with the finest grade cannabis, and the strain-specific cannabis oil is extracted using a safe and high-tech CO2 process.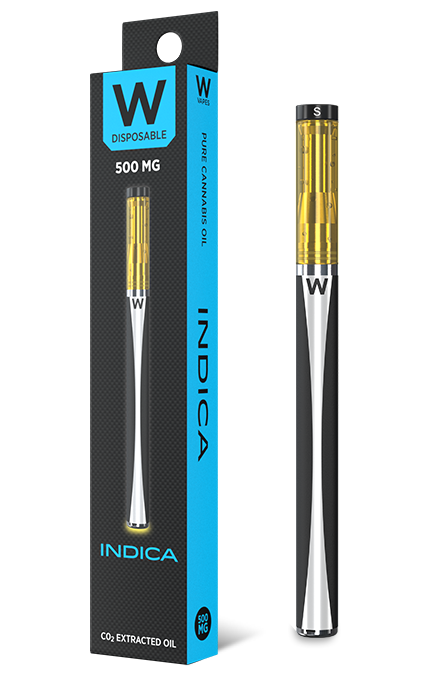 W Vapes Disposable Flavors
The following flavors are available for the disposable vapes:
Picking your W Vapes Cartridge
W Vapes have made it easy to pick your cartridge. By splitting their product into 4 distinct categories, and making them non-strain specific, the choice is simple:
If you want an overwhelmingly cerebral high, then pick up their Sativa. As the effects aren't as strong as say, smoking flower, this is also a great choice for those who are less familiar with MMJ. Smoking a few puffs of W Vapes' Sativa cartridge will help you relax, help with blues & stress and will also give the typical Sativa effects, albeit not quite as strong.
If you want couch lock, and a generally nice relaxing experience, without feeling the need to bounce off the walls, do any chores etc then you should pick up W Vapes Indica. This Indica is also great for sleeping, although you can also pick up the CBD:THC vape for this purpose.
The Hybrid is a perfectly balanced Hybrid, not dissimilar to something like Blue Dream. This perfect balance means you can enjoy both the effects of Sativa & Indica, meaning your body can relax, whilst your mind wonders. This is perfect for something like deep thinking on the sofa, relaxing on the beach, or just general night & daytime use. The best thing about Hybrids is how broad their uses are.
Finally, if you're not interested in feeling high, or if you have a certain condition which is best treated by CBD, then you should pick up W Vapes CBD vape. This has a 6:1 CBD:THC ratio, meaning that the THC helps activate the CBD, but doesn't make you feel high.
The Vaping Experience
The vaping experience is thought to be vastly superior to that of smoking the cannabis flower, bonging, piping etc. Why do people vape, exactly? The main reason is that it doesn't have the negative health connotations which are associated with many other different methods of smoking cannabis. When you burn the plant material, it produces toxins, which are inhaled alongside the medicine.
Storage
Store at room temp. Do not leave in your car, particularly on hot days. Store upright.