About Bhang
Bhang are known for their chocolate normally, but they decided to infuse their two loves together, cannabis & chocolate. However, they also diversified more into the cannabis field, and this brought along the Bhang Pen. The Bhang Stick Pen are cartridges, which is CO2 extracted oil in either Hybrid, Sativa, or Indica form. The Duber currently stocks 6 of the most popular Bhang Oil strains, but in order to request more, please talk to our budtender who will be happy to try and source them for you.
This product are the Bhang Pen Cartridges. Bhang Pure Cartridges contain only the best quality cannabis extracts, which contain absolutely no additives, glycols, or glycerin. These pens are 65-70% potency, allowing for perfect medical dosages whenever and wherever you need them.
Bhang strains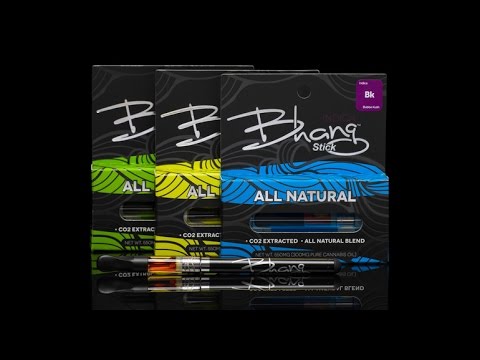 Bhang Hybrid
Bhang Girl Scout Cookie
AKA GSC
OG Kush + Durban Poison
Californian strain (Girl Scout Cookie Cali)
Smoked across the world
Tiny amounts will get you stoned
One of the best-tasting strains
Sativa-dominant
Bhang Pen Berry White
Hybrid, indica-dominant strain
Balanced effects
Helps with stress
Euphoric
Berry & Pine
Upbeat high
Bhang Stick Indica
Bhang Pen Diamond OG
Gem of an Indica strain
Euphoric
Citrus taste
OG Kush parentage, ensuring quality
Relaxing, great for stress
Bhang Grand Daddy Purple
AKA GDP
Famous indica-dominant strain
Californian Strain
Floaty, dreamy buzz
Good for pain, stress, insomnia & appetite loss
Bhang Stick Sativa
Bhang Lemon Haze
Zesty, lemony flavors
Potent strain, known mainly for taste
Strong sativa effects, great for getting creative
Happy, uplifting
Bhang Sour Diesel
Legendary Sativa strain
Pungent, diesel-like aroma
Energizing
Stress & Depression melt away
Very high THC
How to pick your cartridge
Picking your cartridge with Bhang is simple, as they only have two of each types. Follow the guide below to understand better which is best for you.
Sativas are for a cerebral high. Mainly this will affect your mind and will give you bursts of energy, creative and physical. It's normally better to smoke these strains in the day, and they will help with more severe symptoms or conditions such as depression. A good example would be the Sour Diesel strain. This would be for those who can handle their smoke, and is not recommended for beginners. Heavy Hitters Sativa stains are all very potent.

Indicas are more for the body, and often induce what is known as couch lock. Indicas are much better for nighttime use, and will induce sleep and will help with relaxing & stress. An example of a Heavy Hitters Indica strain would be the Blueberry strain, which is also a great taster.

Hybrids can lean either way. They will either by Sativa-dominant or Hybrid-dominant. Think of a hybrid like the middle of a see-saw, and depending on far you move to one side or the other, is how strong the strain is on either the sativa or hybrid side. Hybrids mean that you can have both the overwhelmingly heady effects of a sativa, mixed with the relaxing, euphoric body highs of an indica. We'd recommend trying the Bhang Girl Scout Cookies, which is a legendary strain.
Bhang Pen FAQS
Bhang Stick Battery
The Bhang Stick battery works with most 510 thread batteries, Recently Bhang improved their hardware, and the pens are now leak-resistant, glue-free, and utilizes glass and metal components for the best possible experience. These pens are compatible with most 510 thread batteries, but Bhang recommends their battery.
How to use Bhang Stick
Warm your vape oil. Bhang Private Reserve and Pure oils are 100% cannabis oil so the oil is thick! To get it to flow downward toward the heating coils in the cartridge, you may need to warm it for a minute or two before using. Just hold it tightly in your hand until it reaches room temperature or very quickly blow warm air from a blow dryer onto the cartridge. (You can also pre-heat the oil with our Push-Button Vape Pens via the pre-heat setting.)
What is the shelf life of the Bhang Pen?
Bhang cartridges do not have a shelf life. However, THC and CBD, like any naturally occurring phytocannabinoids, can lose potency over time. To ensure the best, longest life of your cartridge, we suggest using it immediately, and when not in use, storing your cartridge in a cool, dry place away from direct sunlight.