Ganja Gold
This product is for the true cannabis connoisseurs. Ganja Gold source their products with one thing in mind: authentic plant essences and true genetics. It is important to the company that their customers experience a smooth and terpene rich experience, but also that their experience is close to what you would expect if you were to smoke the flower. Their strain specific flavors and terpene profiles allow for a pleasant tasting, smooth, smoking experience.
Ganja Gold Live Resin
The products listed here are the Ganja Gold Live Resin cartridges. They are available in 12 different strain profiles including OG Kush. These cartridges only have two ingredients, the distillate and live cannabis-derived terpenes. As previously mentioned, this gives the product a rich and authentic terpene profile, which will leave you feeling pleasantly stoned. They should be used with any standard 510 thread battery, which the duber stocks here.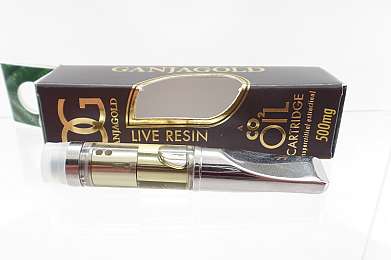 ---
Ganja Gold True OG
True OG is an indica strain,
bred from OG Kush
has very mellow body relaxant effects
Great for relaxing/stress busting
Ganja Gold OG Kush
Infamous for its indica-dominant effects
Great nighttime strain
Will induce sleep
Great tasting
Also can induce euphoria
Busts stress quicker than a stress ball
Ganja Gold Gorilla Glue
Developed by GG strains, very potent
Flavorful
Euphoric, relaxing feeling
Named for its couch lock effects
Helps to treat anxiety, stress, etc.
Resinous buds, making them also tasty
Ganja Gold Lavendar Kush
Relaxing, Indica effects
Floral Scent
Relaxing high
Sleep Inducer
Doesn't keep you active
Couch lock effects
Ganja Gold Sunset Sherbert
Powerful body effects
Sweet taste
Girl Scout Cookie parentage
Indica-dominant
Slight Sativa effects
Great for stress
Ganja Gold Sativa
---
Ganja Gold Strawberry Lemonade
potent sativa dominant strain
perfect for daytime use
help those suffering from depression
Will give a sense of euphoria
Ganja Gold Jack Herer
Hails from Amsterdam
Potent Sativa
Retains all of the flavor from the original strain
Perfect for depression, and other things helped by sativas
Daytime strain
Ganja Gold Super Silver Haze
exceptionally strong
Sativa with uplifting effects
predominantly a cerebral high
perfect for a day of activity.
---
Ganja Gold Girl Scout Cookie
AKA GSC
OG Kush + Durban Poison
Californian strain (Girl Scout Cookie Cali)
Smoked across the world
Tiny amounts will get you stoned
One of the best-tasting strains
Sativa-dominant
Ganja Gold Northern Lights
Body high
very relaxing
leaves the mind to wonder
It helps with depression and stress.
Ganja Gold Gelato
Creamy hybrid
Famous for cerebral and body highs
Well balanced indica/sativa cross
Known for its sweet tastes
Perfect for all-around use
How to pick your cartridge
You should always follow the general guides lines for picking a cartridge. If you want to relax and have a body high, while your mind relaxes and switches off, pick an indica or an indica-dominant hybrid. We currently stock a lot of these as sold by Ganja Gold. Gorilla Glue is a great choice for flavor and potency.
For a more cerebral high, please take a look at the Super Silver Haze. This exceedingly potent strain should be taken with precaution, as it's very strong. You can utilize this to treat depression or more difficult to treat symptoms.
For something more balanced, have a look at their indicas. Gelato is a great choice, especially because of the taste.
The Vaping Experience
The vaping experience is thought to be vastly superior to that of smoking the cannabis flower, bonging, piping etc. Why do people vape, exactly? The main reason is that it doesn't have the negative health connotations which are associated to many other different methods of smoking cannabis. When you burn the plant material, it produces toxins, which are inhaled alongside the medicine.
Ganja gold ensures that their live resin oils are pure, and therefore you can rest assured that you're smoking something of quality.
Storage
Store at room temperature away from excessive heat and sunlight. Do not leave in your car. Keep upright when storing for extended periods of time.
Will this cartridge work with a standard 510 thread battery?
Yes, you can attach your Ganja Gold live resin cartridge to any 510 battery, and providing you're using it properly, it will work.