+
Alpine Live Resin Cartridge
Provide the relief you are looking for from your favorite herb, in a vape form. This product is made by Alpine Vapor. Each product is hand-crafted with "sun-grown" cannabis and is then distilled in a completely solventless process. These Alpine Live Resin Cartridges are bursting with natural flavor, and often test at over 72% THC. This makes them perfect for those who want both purity and power.
Alpine Live Resin How to use
In order to have the most optimal experience with the Alpine Vapor Live Resin cartridge, we recommend the following:
BATTERY SETTINGS
-Set the battery to 3.7V or lower. -This cartridge does not work with box mod batteries. (This is because of a safety feature built-in by the manufacturer.)
-Take short 1-2 second draws to start; this allows the resin to fully saturate the wick. -Once the wick has been saturated, take a 3-5 second draw. -Enjoy the Alpine Live Resin experience.
Cartridges
We offer the following Alpine Live Resin strains, including a lot of OG strians: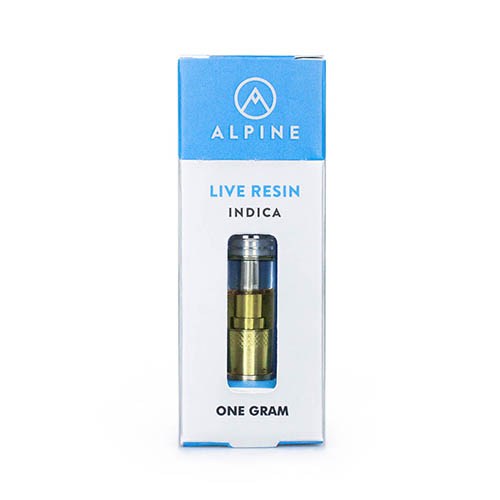 Alpine Live Resin Indicas
True OG is an indica strain,
bred from OG Kush
has very mellow body relaxant effects
Great for relaxing/stress busting
Skywalker is an indica-dominated hybrid
blueberry flavors
Tasty strain
Known for its indica-dominant effects
Know around the world
Body high
very relaxing
leaves the mind to wonder
It helps with depression and stress.
Alpine Live Resin Sativas
exceptionally strong
Sativa with uplifting effects
predominantly a cerebral high
perfect for a day of activity.
popular Sativa strain
comes from Amsterdam
potent sativa
with some hints of indica effects
making it a perfectly rounded high.
Bred in Amsterdam originally
Sought-after for its citrus smell and taste
Cross between Cali Orange and Skunk
Provides a relaxing, euphoric but potent high
Alpine Live Resin Hybrids
Developed by GG strains, very potent
Flavorful
Euphoric, relaxing feeling
Named for its couch lock effects
Helps to treat anxiety, stress, etc.
Resinous buds, making them also tasty
Infamous for its indica-dominant effects
Great nighttime strain
Will induce sleep
Great tasting
Also can induce euphoria
Busts stress quicker than a stress ball
AKA GSC
OG Kush + Durban Poison
Californian strain (Girl Scout Cookie Cali)
Smoked across the world
Tiny amounts will get you stoned
One of the best-tasting strains
Sativa-dominant
Alpine Live Resin CBD
Harlequin is a 75/25 Sativa dominant strain
renowned for its CBD content
descendant of Colombia Gold
clear head but also with alert, sativa effects.
bred by Humboldt Seed Collective
high CBD content
a cross between Harlequin and Sour Tsunami
20:1 CBD to THC content
perfect choice for MMJ patients
created hybrid strain bred by Resit Seeds
designed specifically to have a low THC content
high CBD content
Fantastic medical strain
How to pick your cartridge
In order to pick your cartridge, you must first ask yourself the most important question: why do I want to smoke? If you're looking for something to help take the edge off a long day, then you want either an Alpine Live Resin indica or an indica-heavy hybrid. This will help with mind & body unwinding, and you'll be hard-pressed to find better than Alpine Live Resin Cartridges' Skywalker or OG Kush strains for this very purpose. Sit back and relax with some of the finest tasting and purest concentrates on the market.
If you're looking for something a little more upbeat, or to help with harder to treat conditions such as depression or chronic pain, then you'll probably want to try the Jack Herer cartridges instead. Tangie for taste and Super Silver Haze for potency, but somewhere in the middle sits Jack Herer. A perfect strain combined with purity and you can't go wrong. Any of the Alpine Live Resin Sativas will help, though!
Finally, if you're looking for purely medical without the high, you'll want to pick yourself up a CBD cartridge. Any of the CBD cartridges would make a fine choice, and you can pick the ratio according to your needs.
The Vaping Experience
The vaping experience is thought to be vastly superior to that of smoking the cannabis flower, bonging, piping etc. Why do people vape, exactly? The main reason is that it doesn't have the negative health connotations which are associated to many other different methods of smoking cannabis. When you burn the plant material, it produces toxins, which are inhaled alongside the medicine. This is especially true with a product such as Alpine Live Resin, as they are completely pure cartridges.
Storage
Store at room temperature away from excessive heat and sunlight. Do not leave in your car. Keep upright when storing for extended periods of time.