Heavy Hitters Vape
The People's Choice
Heavy Hitters provides some of the highest potency vape cartridges in the industry. They are competition grade. Although some people complain about the taste of Heavy Hitters, they easily make up for this fact with their potency. Some concentrate vaporizers simply don't do the job, and when it comes to your medicine, sometimes potency is the most important thing. Have too low a dosage, and your symptoms may not find relief.
Heavy Hitters are compatible with all standard 510 thread batteries. The Duber stocks a number of different batteries, all of which will work with these cartridges. The best thing about vape pens? The easy usage and subtle storage. Ensure you're getting the medicine you deserve today and make the people's choice.
Heavy Hitters Cartridges
Heavy Hitters stock a number of different strains, including Sativas, Indicas, and Hybrids. This means you're spoilt for choice when it comes to picking a cartridge. All of their cartridges are potent, but potent in different ways. For a guide to picking your cartridge, please see our information underneath all of the strains,.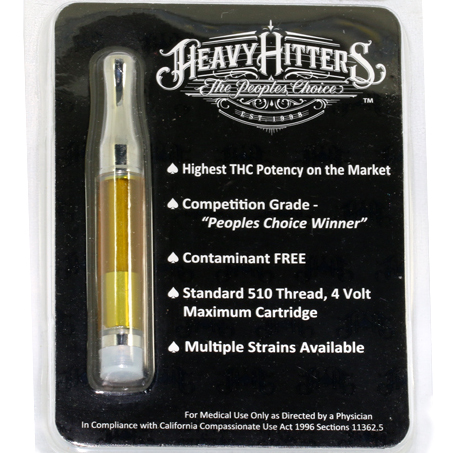 Skywalker OG
If you find a strain you think we should carry feel free to reach out to support or your driver.
Hybrid
---
Heavy Hitters Skywalker OG
Indica-dominant hybrid
Blueberry Flavors
Great for nighttime use
Stress Buster
Heavy Hitters Girl Scout Cookie
AKA GSC
OG Kush + Durban Poison
Californian strain (Girl Scout Cookie Cali)
Smoked across the world
Tiny amounts will get you stoned
One of the best-tasting strains
Sativa-dominant
Heavy Hitters 710 Connoisseur
Relaxing, balanced hybrid
Potent
Will help you relax at home
Heavy Hitters Candy Apple
Sweet and relieving
Alleviates pain & anxiety
High THC content
Potent
Very useful for certain conditions/symptoms
Heavy Hitters Gorilla Glue
Developed by GG strains, very potent
Flavorful
Euphoric, relaxing feeling
Named for its couch lock effects
Helps to treat anxiety, stress, etc.
Resinous buds, making them also tasty
Heavy Hitters OG Kush
Infamous for its indica-dominant effects
Great nighttime strain
Will induce sleep
Great tasting
Also can induce euphoria
Busts stress quicker than a stress ball
Heavy Hitters Pineapple Express
Known for its strong taste
Sativa-dominant
Energetic, stress release
Great for things which require energy, like creativity
Euphoric
Heavy Hitters The Truth
Sativa-dominant strain
The Truth is from California
Super Skunk x Chemdawg
Daytime pain relief
Euphoric
Heavy Hitters Strawnanna
Cross between Strawberry & Banana strains
Good taste
Nice balanced hybrid effects
Sativa
---
Heavy Hitters Jack Herer
Hails from Amsterdam
Potent Sativa
Retains all of the flavor from the original strain
Perfect for depression, and other things helped by sativas
Daytime strain
Heavy Hitters Sour Diesel
Legendary Sativa strain
Pungent, diesel-like aroma
Energizing
Stress & Depression melt away
Very high THC
Heavy Hitters Blue Dream
Amazing taste
Strong Sativa dominant
This is the concentrate form of the strain, so includes the terpenes but not the usual cannabinoid makeup of Blue Dream
More sativa-dominant that the strain itself, this is a potent strain
Heavy Hitters Orange Crush
Citrusy taste
Powerful cerebral high
Lasts a long time (potent)
High % THC
Heavy Hitters Strawberry Cough
Heavy, potent Sativa
With strawberry overtones
Happy, euphoric
Pungent, potent
Anxiety, depression, and stress buster
Heavy Hitters Tangie
Bred in Amsterdam originally
Sought-after for its citrus smell and taste
Cross between Cali Orange and Skunk
Provides a relaxing, euphoric but potent high
Indica
---
Heavy Hitters Blueberry
Legendary Indica strain
Long history, going back to 1970s
Fresh blueberry scent and taste
Long-lasting euphoric effects
Blue Hues
Great taste
Heavy Hitters Bubba Kush
Gets its name from the relaxing nature of the strain
From the renowned Hindu Kush Mountains strain Hindu Kush
Body high, couch lock
Treats stress and anxiety
Can also induce sleep
Nighttime strain or lazy weekend
Heavy Hitters Grape Ape
Created by Apothecary Genetics and Barney's Farm
Pure Indica
Solid, body high
Cross between Mendocino Purps, Skunk and the Afghani Landrace
Distinct Grape smell
Carefree, relaxing high
Soothes pain, stress and anxiety
Heavy Hitters Malibu OG
Potent
Perfect for pain
You won't be moving around too much after smoking
Great for evening use
Heavy Hitters Northern Lights
Infamous strain
Pure Indica
Descended from Afghani Landrace
Forerunner to Sour Diesel
From Amsterdam, Potent
Body high
Good for stress & sleeping
Heavy Hitters Pink Kush
Indica dominant
OG Kush and Pink Kush combined
Powerful, heavy high
Eliminate pain
Helps with insomnia
These lab results allow you to plan your high around your specific needs. You may see exactly how much CBD/THC etc. each strain contains, therefore allowing you to choose something which will best benefit you. If you need help finding out which type of strain is best for you, please check out our more information section on the homepage!
How to pick your cartridge
When it comes to choosing a Heavy Hitters Cartridge, you're in luck. We have a massive list of cartridges to choose from, giving you all the choice that you could possibly want. As a general guide, you should follow these rules:
Sativas are for a cerebral high. Mainly this will affect your mind and will give you bursts of energy, creative and physical. It's normally better to smoke these strains in the day, and they will help with more severe symptoms or conditions such as depression. A good example would be the Sour Diesel strain. This would be for those who can handle their smoke, and is not recommended for beginners. Heavy Hitters Sativa stains are all very potent.

Indicas are more for the body, and often induce what is known as couch lock. Indicas are much better for nighttime use, and will induce sleep and will help with relaxing & stress. An example of a Heavy Hitters Indica strain would be the Blueberry strain, which is also a great taster.

Hybrids can lean either way. They will either by Sativa-dominant or Hybrid-dominant. Think of a hybrid like the middle of a see-saw, and depending on far you move to one side or the other, is how strong the strain is on either the sativa or hybrid side. Hybrids mean that you can have both the overwhelmingly heady effects of a sativa, mixed with the relaxing, euphoric body highs of an indica. Heavy Hitters hybrid collection is large, but we'd recommend trying the Girl Scout Cookies, which is a legendary strain.
How to store your cartridge
Store you cartridges in a cool, dry place. Store them upright. Do not leave them in your car on a hot day.